26 Traditional Indian Thalis and Platters, all compiled on one page to make things easy for you guys. These Thalis and Platters have been created to showcase the diversity of Indian Cuisine.
For this Festival we have categorised our Thalis and Platters into five different categories.
1.Everyday Thalis
Where I have shared four Sindhi Thalis. Sindhi's do not have specific thalis, but we do have combinations which are served together. Everyday Thali's give you a glimpse of some of the routine food that we make. We do not have many Sindhi Restaurants, but yes with new trends we see a few opening up.
2.Regional Thalis
Here I have chosen different states and presented food cooked specifically to these states. Every region has it's own version of a particular dish. The spices differ, the cooking style differs and even the utensils differ. Toor Dal in South will be made into a sambar, Dal Tadka in Punjab, Dal Dhokli in Gujarat and so on and so forth. So here I am presenting the traditional cuisine of six different regions of India.
3. Platters
The third category of this theme is Platters. Platters are large plates, a meal or a combination of different combinations are served on it. I shall be presenting six platters, with wonderful delicious flavours.
4. Flatbread Special Thalis
We have a wide variety of Indian Flatbreads and each state has a different one to compliment the curries and side dishes. Most flatbreads are unleavened and usually made with grains like wheat. We have a good variety of millet breads too. The South is popular for its rice bread. So for this category I have chosen six Flatbreads and worked my menu around them. Check out these Thalis.
5.Theme based Thalis
The last category for this Thali and Platter Festival are Theme based Thalis. here I have picked Fasting Food as the theme. This is such a wide topic, and I was surprised to read on it. Basically fasting is abstaining from some foods and drinks, sometimes abstaining from a meal. All religions have their own set of rules and like I said it is a very very wide topic and I have just picked some simple Fasting meals here. Some meals to be enjoyed while fasting, some to break the fast. So enjoy these four Thalis which are special to the theme of Fasting.
Baked Ratalu ane Bateka nu Handvo
Rose and Pistachio Stuffed Dates
We come to an end of the September Mega Marathon. This probably has been one of the toughest themes that we picked, but I have to admit the best. Thank you Valli!..Thank you, fellow friends, for joining in, especially during this tough period. I am sure we are going to cherish each and every post created here. Before I end let me give you a glimpse of the previous Mega Marathons –
April 2014 – A Recap of The Indian Food Odyssey……A Journey of 30 Indian States
September 2014 – Re-Cap of Around the World in 30 Days
April 2015 – Recap of Fire up Your Oven
September 2015 – Recap – Buffet on Table
April 2016 – A to Z, 26 Traditional Sindhi Sweets
September 2016 – The Sandwich Festival…over 40 Sandwiches! – Recap of Cooking Carnival 2016
April 2017 – A – Z Baking Around the World – Re-cap,26 Eggless Cakes!
September 2017 – Protein Rich Recipes
April 2018 – Explore the Flavors – How to make 26 Lip Smacking Street Foods from India
September 2018 –Flatbreads and More – How to make 26 Indian Flatbreads
April 2019 – 26 Rice Recipes at Biryani, Pulao and Khichadi Festival
September 2019 – Sweets and Snacks for Diwali
26 Traditional Indian Thalis and Platters
Notes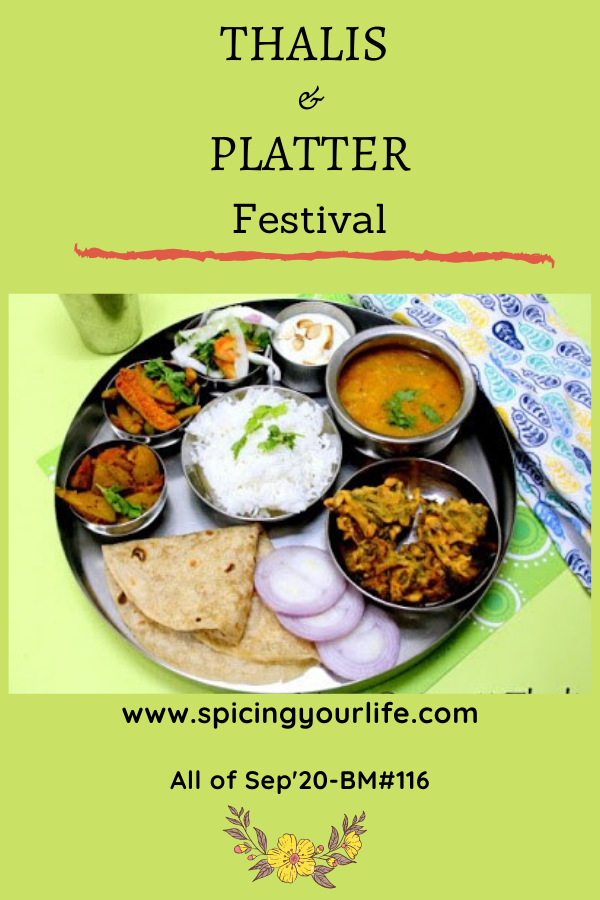 Check out the Blogging Marathon page for the other Blogging Marathoners doing BM#116