Chettinad Wedding Spread is a spread that is served for weddings of the Chettiar community of South India.
Chettinad Cuisine is the cuisine of the Chettinad region of Tamil Nadu. Food from this state is predominantly vegetarian due to the majority of Tamil Brahmins. Traditionally their meals are served on banana leaves with servings of rice, buttermilk, pickles, papads, and salads. They follow a specific protocol where each dish served should be at a designated space and order on the banana leaf.
Chettinad Cuisine largely uses spices like fennel, cloves, bay leaf, star anise, fenugreek, and cumin. It's interesting to note that some of their recipes use garlic with skin!
Today I have tried to create a wedding spread, the menu for this has been planned by
Valli
. To be frank, I had no clue about this cuisine, and since I wanted to explore it, I decided on it and asked Valli to get me an authentic menu and recipes. When it comes to South Indian Food, I definitely need help in planning for it. With the menu and recipes all ready, my 50% work was done, so I definitely have to give credit to Valli. Thanks, Valli, this was quite a spread and my family loved it.
Here is the menu that was served for the Chettinad Spread, which is my 5th Regional Thali under The
Thali and Platter Festival
. The meal is normally served in the following sequence.
First salt is served followed by vegetable dishes.
Dry vegetables
Chettinad Muttaikose Thuvattal
Beetroot Kola
Tomato Soup
Fruit Payasam
Jhangiri
Main Course
Brinji
Followed by
Steamed Rice
Getti Parupu / Thick Toor Dal
Ghee
Sambar
Pineapple Rasam
Kuzhambu
Vendaikkaai Mandi
This meal was prepared for a Sunday Lunch and we loved the flavours. Everyone had a different choice for the best dish. Potatoes ranked on top, so I shall share the recipe for these today.
I normally use regular onion or baby onions while making any South Indian, but this time I went out of my way to get shallots. It sure was a task to peel more than one kg of shallots, but totally worth it. I shall talk about each dish as and when I post them in the upcoming marathons, at present I can only say Chettinad Cuisine is super delicious.
I have some more meals from South India, check them out!
Chettinad Wedding Spread
Notes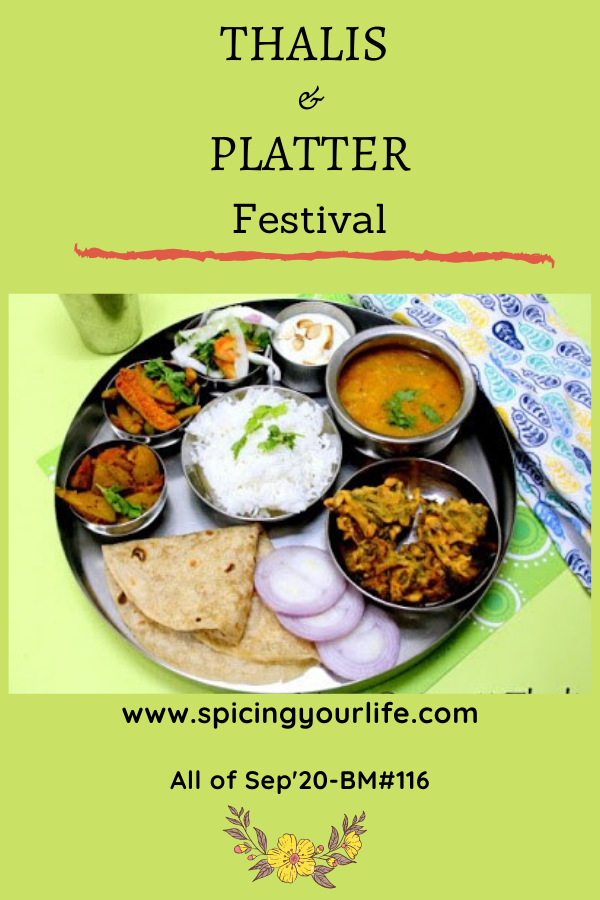 Check out the Blogging Marathon page for the other Blogging Marathoners doing BM#116