Faryali Thali is a thali which is specially prepared while you are fasting and you abstain yourself from eating regular meals, instead, a special Fariyali Meal is prepared.
We are in the last week of our September Mega Marathon with the theme Thalis and Platter Festival. This week I shall be posting Thalis related to Fasting Food / Foods consumed while we fast. Each community has its own rules and regulations, but I shall be doing a general theme. I am no pro on these, so forgive if I have made a mistake.
Fasting is the willing abstinence or reduction from some or all food and drinks both, for a period of time. In India, we have many religions and almost all have some special days where people fast. Each Fast or Upwas as they call it has its own rules and regulations.
As a young girl, I used to fast on Mondays. They say it's Lord Shiva's day. I used to eat one meal a day but was allowed to eat fruits and potatoes. When I think about it, I feel I ate more in the bargain!
Friday was yet another fasting day, where we were not allowed anything sour, no tomatoes, no citric fruits. Again one meal a day.
Normally people would fast due to some religious reasons but we have some fasts that are for weight loss! Intermittent fasting is a buzzword right now. It is a term for various eating diet plans that cycle between a period of fasting and non-fasting over a defined period. Well, let's get back to the religious fasting!To know more about Hindu Fasting read here.
Then Janamasthami was one day I used to fast with my grandma. She would cook a variety of food and when I made this Fariyali Thali, I was reminded of the meal she used to cook. She naturally made Sindhi style! The Sindhi's make a completely different fasting spread, which is quite interesting too. Perhaps someday I shall make that too. This meal is a spread and normally served on festivals. The food has to be Satvik, without onion and garlic. There is a variety of fruits and vegetables, milk and milk products which can be consumed.
With today's trends, almost anything and everything can be made Fariyali. I have restricted myself to a simple traditional menu. So let's check it.
Fariyali Thali Menu
Drink
Gulab Nariyal Paani is a refreshing drink made with the freshwater from the green coconuts. This tropical drink is further enhanced with rose petals and tender coconut meat.
Snack
Sabudana Vada
Main Course
Accompaniments
Dahi
Anar
Namak , Mirch , Nimbu
Sweets
Basundi
Badaam Katli
Breads
Rajigiri Roti is a healthy gluten-free Indian flatbread made with Amarnath flour or rajigiri flour as called in Hindi. This is a roti which is normally made during the fasting days.
For today I shall share the recipe for Sabudana Vada, rest of the recipes shall follow in the later months.
Let's look at the Thali's I have posted so far for The Thali and Platter Festival-
Week 1
Everyday Thalis
Week 2
Regional Thalis
Day 6 Parathe wali Gali ki Thali
Day 6 Kaddu ki Khatti Meethi Sabzi
Day 7 Sindhi Meal
Day 7 Sev ka Raita
Day 8 A Meal from Kerela
Day 8 Nadan Urulaizhangu Curry
Day 9 Chettinad Wedding Spread
Day 9 Potato Masala
Day 10 Bengali Vegetarian Thali
Day 10 Anarosher Chutney
Week 3
Platters
Day 11 Gujarati Farsan Platter
Day 11 Dudhi na Muthiya
Day 12 Pakora Platter
Day 12 Stuffed Whole Onion Pakora
Day 13 Chatpati Chaat Platter
Day 13 Chatpati Chole ki Chaat
Day 14 Sindhi Breads
Day 14 Aatey jo Chilro
Day 15 Udupi Tiffin Recipes
Day 15 Rava Masala Idli
Day 16 Marashtrian Mix Platter
Day 16 Matar ki Karanji
Week 4
Flatbread Special Thalis
Day 17 Maharashtrian Rustic Thali
Day 17 Jowar ki Roti
Day 18 Himachal Pradesh Thali
Day 18 Babru
Day 19 North Indian Thali
Day 19 Ajwain ka Paratha
Day 20 Rajasthan ki Thali
Day 20 Biscuit Bakhri
Day 21 Uttar Pradesh Thali
Day 21 Beetroot Poori
Day 22 Saurashtra Lunch Thali
Day 22 Gujarati Bakhri
Fariyali Thali
Notes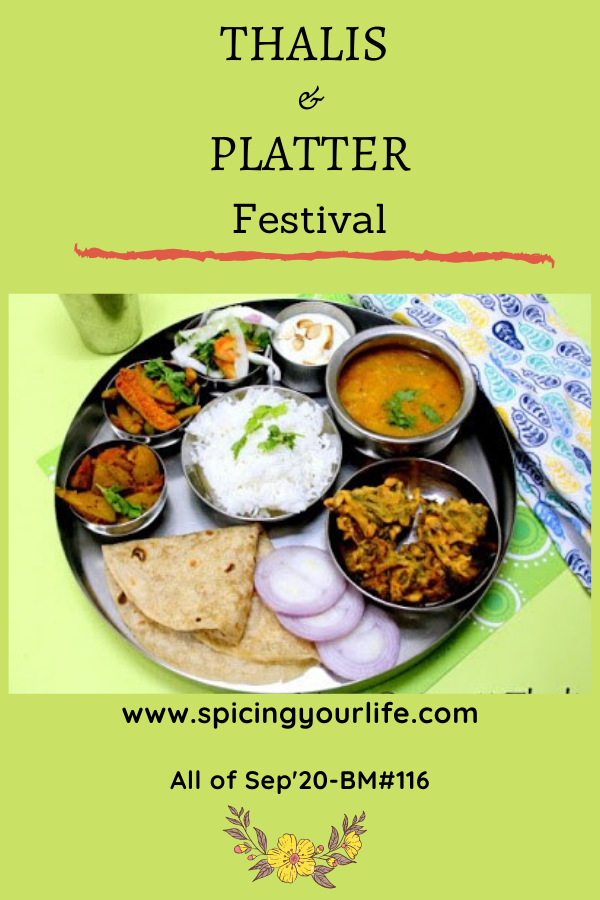 Check out the Blogging Marathon page for the other Blogging Marathoners doing BM#116