Himachal Pradesh Thali is a thali meal where selected and popular dishes from this region have been put together. The meal is homely, yet delicious.
Himachal Pradesh
is a North Indian state, which has a lot of natural beauty. The word Him means snow in Sanskrit, and trust me these snow-clad mountains make a picture-perfect scene.
I have visited this state many times and enjoyed the local cuisine. In fact, the local chefs gave me a demo of some of the popular dishes. Himachali Cuisine has a great deal of influence from its neighbouring states. Most of the dishes are slow-cooked and they have unique flavours. Their curries are yoghurt based and truly it's an art to cook them. One needs to slow cook these curries as yoghurt tends to curdle.
Since this is a hilly region, fresh vegetable produce is not very easily available. They use a lot of lentils, rice and pulses. While planning for this thali, I had a tough time as I always feel no meal is complete without a green. I searched for recipes and finally found Rainta .
Himachali's cook a Dham for festivals and this Dham is cooked by special chefs called Boti's. They have a special menu for Dham and since I have posted a
Dham
some few years back, I chose different dishes.
My children and family enjoyed this Thali the best. They felt the flavours of each dish were simple yet could satisfy the tastebuds. In spite of it being a spread, no one felt heavy. When I asked them to compare the Thali's it was hard for them to choose, but I must say these simple dishes have become a part of the everyday menu.
Today's Himachal Thali is categorized under Flatbread Special Thali, where Babru is the highlight. I shall share the recipe for it, the rest of the recipes shall follow in the upcoming marathons, Though you can enjoy some
Kale Channe ka Khatta
,
Kangra Dal
,
Chana Madra
from this cuisine that has already been posted.
Menu
Snack
Panchole
( Pachole is a steamed lentil snack made with mashed sweet corn and chickpea flour )
Curries
Aloo Palda
( Aloo Palda is a Pahari style potato curry made with potato, yoghurt, turmeric and mustard oil.)
Chana Madra
(Madra is a popular Himachali slow-cooked curry made with chickpeas and yoghurt that belongs to the Chamba region.)
Raintha
(a unique curry made with dates, walnuts and spinach )
Bhey
( stir-fried lotus stem, tossed in simple spices lend the Bhey a delicious earthy flavour)
Accompaniments
Kheru
( spiced creamy yoghurt, seasoned in mustard oil makes an excellent accompaniment )
Chukh
(an instant Himachali pickle made with crushed green chillies, sauteed in mustard oil, with a sharp zing and a beautiful flavour)
Bread & Rice
( traditional Himachal Flatbread stuffed with black gram, deep-fried to a golden )
Bhat
( steamed local rice )
Khichadi
( a unique rice and lentil mish-mash, seasoned with a special blend of spices, along with vegetables makes a complete meal )
Meetha Bhat
( sweet rice made with jaggery, seasoned with pure ghee and garnished with exotic nuts and fruits )
Sweet
( a rustic and earthy dessert, made with fox nuts and dried fruits, nuts and dry coconut, a treat by itself )
Himachal Pradesh Thali
Notes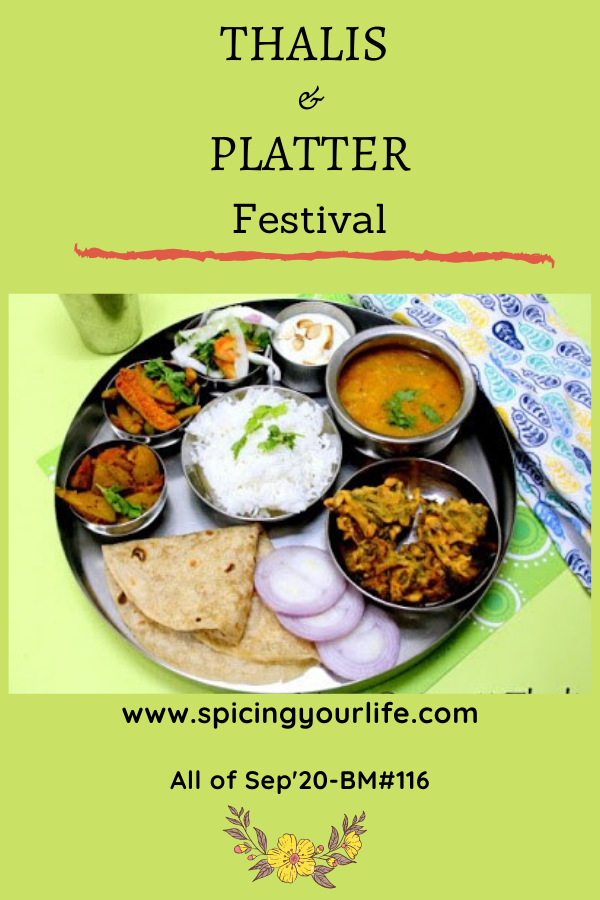 Check out the Blogging Marathon page for the other Blogging Marathoners doing BM#116