Bahubali Pakora Platter is a platter where a variety of batter-fried pakodas or fritters are served along with various condiments. They make a perfect tea time snack.
Pakoras are batter-fried deep-fried snacks which are popular in India. Pakoras can be made with almost any vegetables, and seriously there is such a huge list of these that I am sure if we get down to making them we can easily do 2-3 marathons just on Pakoras!
Today's Pakora Platter has been an inspiration from Rajani's Platters that she posted last week. I knew I could not match Rajani's standards but all the same wanted to give a trial. My post for this platter was ready and scheduled. From the very day I made that platter, I was not so happy with the pics and I thought of redoing, but fried food and that too pakoras ..it was a big NO! After Rajani's second platter I decided to redo the pakora platter, I knew it was a lot of work, also what if no one ate, but finally decided to send some pakoras to the neighbours in case there was a fuss. So I got all my ingredients on Friday and invited the kids for lunch on Saturday, glad the hubby was at office else he wouldn't have let me fry so many pakoras..he he..
My son asked – Which platter, ma? 
Pakora Platter!
The immediate response – No, it's a Bahubali Pakora Platter!
Everyone gathered around the table and didn't wait for any plates, they loved the Pakoras and it was like a party. It was so much fun, everyone, looking for their interest in the platter and then discussing the pakoras and their ingredients. How I missed hubby and his comments at that time. I saved some pakoras  from all varieties for him so he could enjoy them for dinner. I really don't know what he will say, as I am writing this post right after everyone has left. Sunday is a busy day and this post will be up on Monday.
Pakora Platters are a common sight on the streets as well as restaurants. A Pakora Platter normally has 5-6 assorted pakoras. Paneer Pakoras, Aloo Pakoras, Mirchi Pakodas, Gobhi Pakodas are some of the common pakoras that we see in these platters. The idea behind these platters is that you get a big variety of these and one can pick and enjoy what they like.
The batter for the pakoras is generally made with chickpea flour, though we see a lot of variation for this batter too,  the most common being with basic chickpea flour. I have tried to make a different batter for different pakoras here.
Up in the North, these pakoras are fried in mustard oil, which lends them a unique and amazing flavour. Some twenty-thirty years back while I was in Delhi I remember the hawkers on the streets used mustard oil, but with time we see regular refined oil like cottonseed or rice bran oils are used. In Gujarat, peanut oil was largely used for deep frying but this too is being replaced with the healthier cooking oils.
Each state has their favourite pakoras, Bengal is famous for Begun Bhaja, Mirchi Vada is the speciality of Rajasthan and when it comes to Maharashtra, one can't help gorging on their famous Batata Vadas and Kanda Bhajia.  
Today's Bahubali Pakora Platter has some of the varieties that we make at home, but most of these are first-time trials. Let me share what I have on this Bahubali Pakora Platter. This Bahubali Pakora Platter is the second platter in the Platter Series under the theme Thali and Platter Festival.
Rajani, the credit goes to you, else I wouldn't have done such an elaborate platter. Thanks for the inspiration.
Bahubali Pakora Platter
Aloo ke Pakore
Ajwain ke Patte ke Pakore
Bhavnagri Mirch ke Pakode
Kurkure Kanda Bhajia
Lauki ke Pakode
Paalak ke Pakode
Sabut Pyaz ke Pakode
Sooji ke Pakode
Qeeme ki Tikki
Xtra Spicy Mirch ke Pakode
Accompaniments
Fried Chillies
Dhaniye ki Chutney
Imli Chutney
Mint Chutney
Rajkot ki Chutney
Ketchup
Chat Masala
Sirke wale Pyaz
Chai
Gingerale
Today's recipe is Sabut Pyaz ke Pakore.
Week 1
Everyday Thalis
Week 2
Regional Thalis
Day 6 Parathe wali Gali ki Thali
Day 6 Kaddu ki Khatti Meethi Sabzi
Day 7 Sindhi Meal
Day 7 Sev ka Raita
Day 8 A Meal from Kerela
Day 8 Nadan Urulaizhangu Curry
Day 9 Chettinad Wedding Spread
Day 9 Potato Masala
Day 10 Bengali Vegetarian Thali
Day 10 Anarosher Chutney
Week 3
Platters
Day 11 Gujarati Farsan Platter
Day 11 Dudhi na Muthiya
Bahubali Pakora Platter
Bahubali Pakora Platter is a platter where a variety of batter fried pakodas or fritters are served along with various condiments.They make a perfect tea time snack.
Notes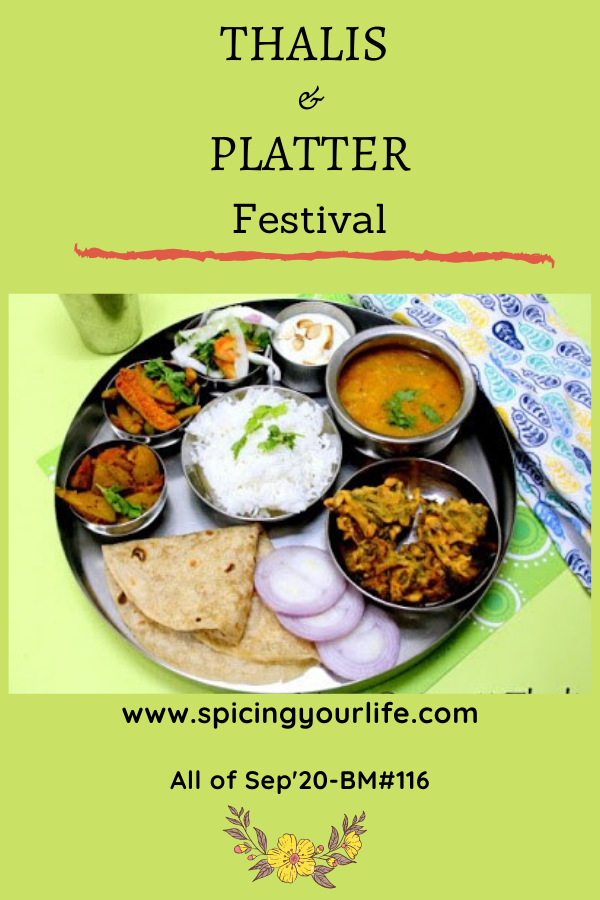 Check out the Blogging Marathon page for the other Blogging Marathoners doing BM#116