Rajasthan ki Thali is a complete spread of Rajasthani curries, bread and sweets. It is a complete spread from the sandy deserts of Rajasthan.
Rajasthan is my neighbouring state and although there are so many cities of this rich, cultural state, we normally travel to
Udaipur
very regularly.
Jodhpur
,
Jaisalmer
,
Jaipur
are the main cities and I simply love to visit them. I love the culture of this state, their food and their colourful dressing.
Food that could last for several days and could be eaten without heating was preferred. Scarcity of water and fresh green vegetables have all had their effect on the cooking. As a result, you shall see a lot of dishes which have a good shelf life.
I have cooked from this state a number of times, yet every time I plan on a Thali, Rajasthan always ranks at the top. I love their rustic dishes and am always in a quest to find more and more traditional dishes. A few months back we were in Jaisalmer and on my personal request they prepared a very special thali for us. Other than that they gave me live demos of their special dishes.
This week you shall see Flatbreads which are special to that state. For this Flatbread Special, I have chosen a menu which has a special flatbread from the colourful, sandy desert, Rajasthan. The Rajasthan ki Thali is my fourth Flatbread Special Thali under the theme
Thalis and Platter Festival.
So let's get to the menu for today –
Rajasthan ki Thali Menu
Drink
Amalvaniya
( a sweet and sour tamarind drink )
Snack
Pour Posh Bade
( Pour Posh Bade are lentil fritters from the pink city of Jaipur. These are a winter speciality, due to the warm ingredients in it )
Curries
Aamras ki Kadhi
( curry made with mangoes and yoghurt, seasoned with spices )
Pithod ki sabzi
(Pithod ki Sabzi is a Rajasthani curry, made with chickpea flour dumplings which are steamed and then dunked into a gravy. )
Bharwa Parval
( Bharwa Parval are stuffed pointed gourds, these make an excellent side dish )
Ker sangri
(Ker Sangri is a kind of pickle that is a combination of Ker, which is a piquant wildberry, and Sangri are the dried beans of Khejri, both are stir-fried with an array of local spices. )
Accompaniments
Mirch ke Tipore
(Mirch ke tipore is hot, spicy and tangy side dish It is one of the traditional and authentic recipes for Rajasthani cuisine. It has a special zing and is spicy. You can call it a stir fry or even a pickle . )
Tamatar ki chutney
( Tamatar ki Chutney is a piquant, sweet, tangy and spicy chutney. It has the burst of flavours)
Bread
Biscuit Bhakri
( unleavened flatbread with a nutty flavour, and crisp as a biscuit )
Sweets
Mota Dana
(Mota Dana are urad daal dumplings, which are dunked into a sugary syrup. The sweet is a speciality of the city if Jaipur, Rajasthan. )
Besan ki Barfi / Chakki
( Besan ki Chakki is an Indian fudge with chickpea flour, cooked with ghee and sugar. This is a melt in the mouth fudge, delicious chakki )
White Rice
Rajasthan ki Thali
Notes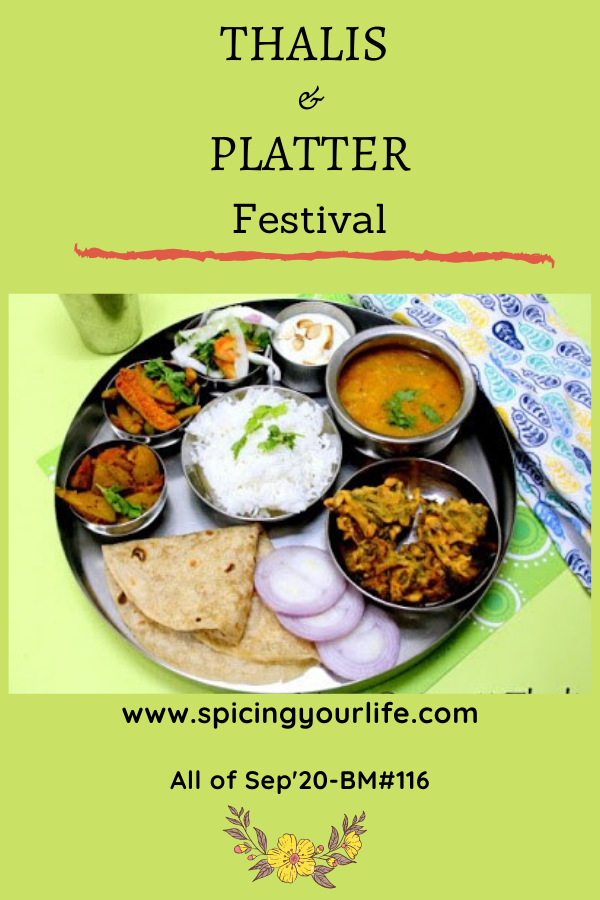 Check out the Blogging Marathon page for the other Blogging Marathoners doing BM#116