Kerala Meal is a meal with some special dishes from the southern state Kerala, which is also known as God's own Country.
Kerala Meal was prepared for the last marathon which was a
Flatbread Special.
Pathiri
is the flatbread from the Malabar region and while planning on this meal, I asked
Rajani
for help. She generously helped me and my family happily enjoyed the meal.
Kerala, the land of spices has so much to offer in terms of food. Veg and non-veg both are equally popular. Muslim and Christians have also contributed unique dishes and styles to Kerala cuisine, especially the non-vegetarian dishes.
On my last visit to Kerala, we were in
Wayanad
, which is a hill station of Kerala. I met the local hotel chef and was amazed to learn about the rice varieties of this state. The chef got me some rice which was called Ghee Rice – wait now this is not a dish I am talking about, this was raw rice! You check the aroma of the rice and it is as though ghee has been added! I naturally had to get some!
A little about today's dishes –
  Nadan Urulaizhangu Curry is a curry which was actually an Egg Curry and I substituted potatoes! I have to admit, the dish has very simple flavours, but very very delicious.
Cabbage Thoran is a crunchy cabbage sauté, quick no-frill side dish. The Takkali salad is a mix of tomatoes, onions, which are our basic salad ingredients, but the pounded green chilly, the torn curry leaves and a final drizzle of coconut oil take the salad to a different level. The Vellarikka Pachadi is the cucumber raita, but with tempering and you know cucumber and yoghurt make a heavenly combo.
The finale to the meal is two sweets, Aval Payasam and Mango Rava Kesari. Both are delicious, one better than the other and one really can't decide which one to end the meal with! Payasam or Kesari! By the way, if you are a payasam lover, check out the
25 Kheer recipes.
Kerala Meal Menu
Cabbage Thoran
Vellarikka Pachadi
Mango Rava Kesari
Aval Payasam
Cabbage Thoran
Takkali Salad
Vellarikka Pachadi
Mango Rava Kesari
Aval Payasam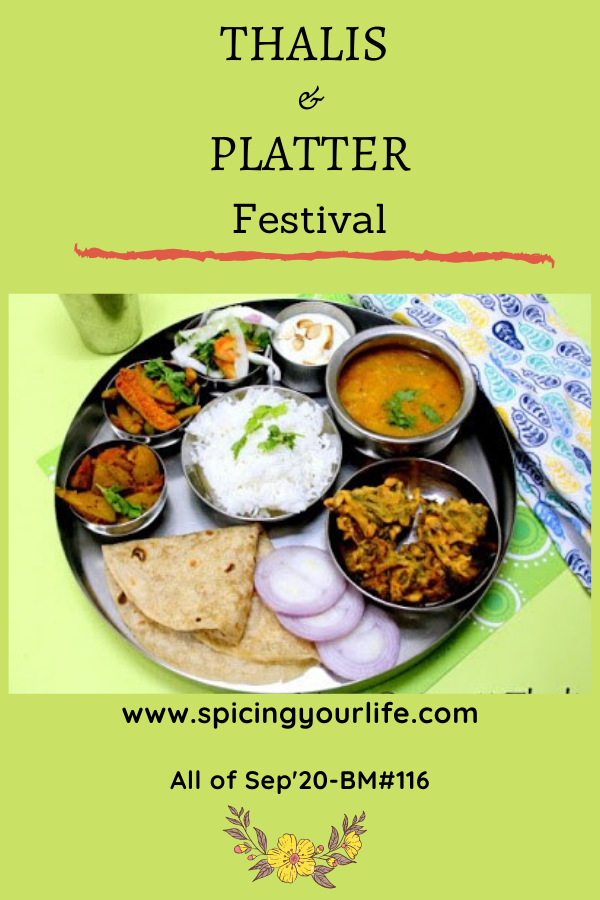 Check out the Blogging Marathon page for the other Blogging Marathoners doing BM#116
You are invited to the Inlinkz link party!