Maharashtrian Mix Platter is a platter where a set of some of our favourite and popular Maharashtrian dishes have been put together.
Maharashtrian cuisine has some traditional dishes which are globally popular. For this Mix Platter, I have selected some of them. The first one is Pav Bhaji. This is one street food which has gained popularity and is sold on streets as well as in restaurants. It is also home-cooked by almost all communities. This is basically a mash of a particular set of vegetables, which is highlighted with a special spice, the Pav bhaji masala and a chunk of butter! The Bhaji, which is like a thick gravy is prepared on a big flat griddle and is served with Pav, a soft bread which is toasted and slathered with butter.
The next dish that I have served here is Pitla. Pitla is a curry made with chickpea flour or besan as we call it. It is a traditional dish prepared in Maharashtrian homes and is normally served either with Jowar ki bakhri or Tandalachi Bakhri. I have served with Tandalachi / Rice Bakhri. Since I was serving rice roti, I decided to serve a side dish too. No meal is complete without accompaniments, so I have some Thecha and some onions!
The Mix platter has two snacks, which are made in Gujarat too. Aloo Wadi, which is also called Patra or Pathod. These are sweet and tangy spiral rolls made from colocasia leaves. Strange but I always thought these to be from Gujarat! The other snack in this platter is Matar ki Karanji. These are savoury pastries which are stuffed with fresh green peas and coconut. A sweet version of these is made in Gujarat called Ghughra. Interestingly Ghughra is popular as Gujia in Rajasthan
Isn't it interesting to see that we have so many dishes which are quite similar, perhaps with a slight difference and a different name altogether? Anyways enjoy this platter which is my last platter in this series where we are posting Platters this week under the theme Thali and Platter Festival. For today I shall share the recipe for Matar ki Karanji.
Week 1
Everyday Thalis
Week 2
Regional Thalis
Day 6 Parathe wali Gali ki Thali
Day 6 Kaddu ki Khatti Meethi Sabzi
Day 7 Sindhi Meal
Day 7 Sev ka Raita
Day 8 A Meal from Kerela
Day 8 Nadan Urulaizhangu Curry
Day 9 Chettinad Wedding Spread
Day 9 Potato Masala
Day 10 Bengali Vegetarian Thali
Day 10 Anarosher Chutney
Week 3
Platters
Day 11 Gujarati Farsan Platter
Day 11 Dudhi na Muthiya
Day 12 Pakora Platter
Day 12 Stuffed Whole Onion Pakora
Day 13 Chatpati Chaat Platter
Day 13 Chatpati Chole ki Chaat
Day 14 Sindhi Breads
Day 14 Aatey jo Chilro
Day 15 Udupi Tiffin Recipes
Day 15 Rava Masala Idli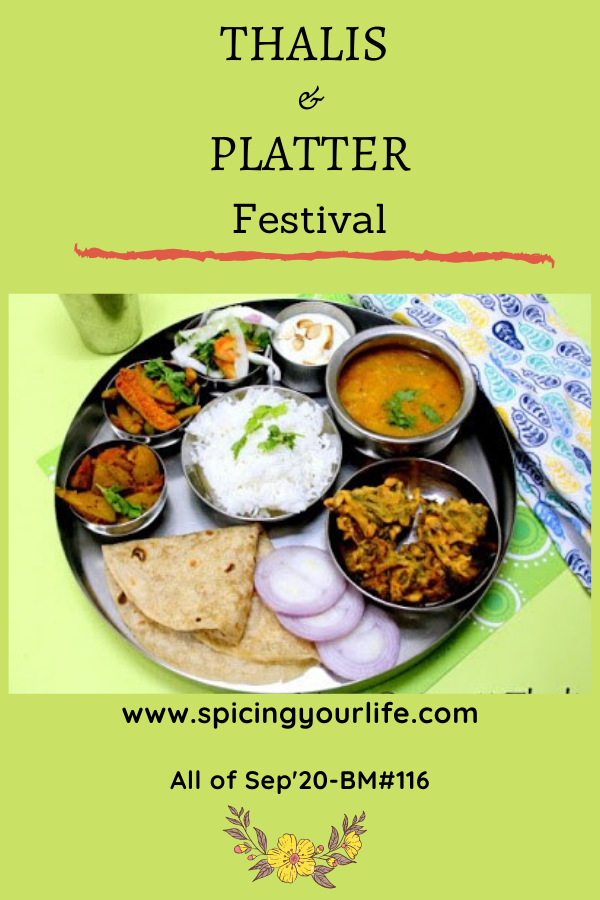 Check out the Blogging Marathon page for the other Blogging Marathoners doing BM#116
You are invited to the Inlinkz link party!

age-6-341x1024.jpg" alt="" width="341" height="1024" />