Sindhi Comfort Lunch Thali is the ultimate comfort meal prepared in a Sindhi family. This is a basic, no-frill meal and can be enjoyed by all.
When we talk of a comfort meal in a Sindhi family, it will always be Daal Chawara Patata or Daal Chawara Bhindiyu. At times, both aloo and bhindi are the side dishes. We have a variety of daals, like
Toor Dal Sindhi style
,
Tridaali Dal
, which are specific to Sindhi Cuisine, but it is the yellow moong dal which is cooked when we talk of comfort food!
As soon as the wedding season gets over or when coming back home after a holiday, it's always this Dal Chawara that is cooked in most Sindhi homes. The meal is simple, quick to cook, and truly a bliss. These basic supplies are always at home which makes it even easier and saves a trip to the supermarket!
Moong Dal is one of the lightest lentils that can be prepared, it pairs best with a dry saute, and potatoes being a Sindhi favourite. (well is it only the Sindhi's ? ) Bhindi or Ladies Fingers is yet another dry saute that teams up well. There are a couple of more dry sautes which are common in Sindhi families, but potatoes rank the highest!
I had two more thalis, all clicked and ready, but since we planned on Everyday Thalis, I actually wanted to showcase these simple basics, which are our everyday affair. Pickles are not a daily affair in our house, but with the Moongan ji Dal, it's kind of pulls you, and adds on to the flavour. So here is an Ultimate Comfort Thali from a Sindhi Kitchen!
Menu
Bhindiyu / Okra
Dudh / Dahee
Khatain ( pickle)
Papad
For today I shall be sharing the recipe for Moongan ji Dal, The Sindhi Comfort Lunch Thali is my third Thali under Everyday Thalis for our
Thali and Platter Festival.
We have some globally famous Sindhi Food Combos which are a must-try , some of these are available at Kailash Parbat.
TriDaali Dal – Jowar jo Doh Doh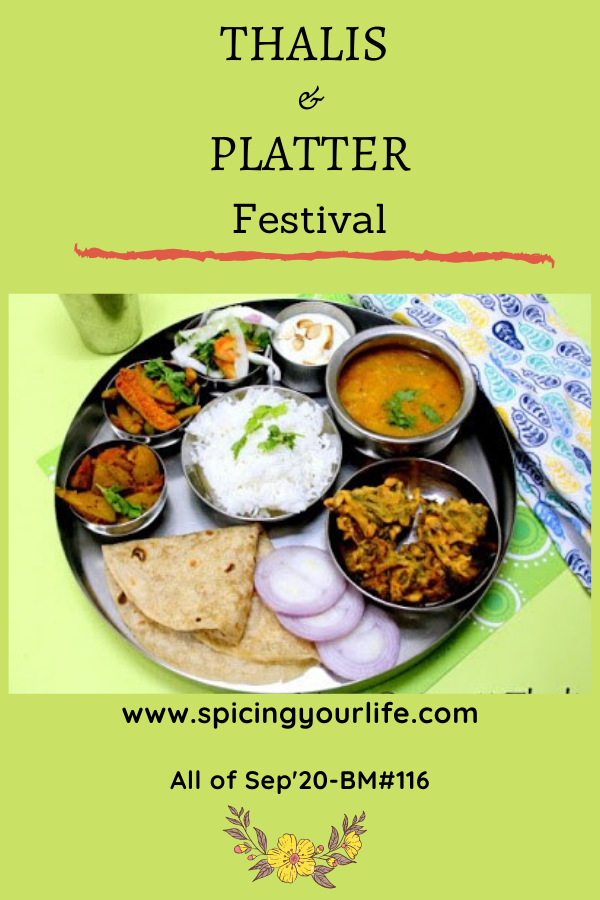 Check out the Blogging Marathon page for the other Blogging Marathoners doing BM#116
You are invited to the Inlinkz link party!