Saurashtra Lunch Thali is where a complete Gujarati meal with dal, bhat, rotli, shaak are served together to make a complete balanced meal.
Gujarati's have fixed menus, the combinations are normally fixed and if you believe they have fixed menus for weekdays too. They must cook moong beans on a Wednesday. Thursday is a day when they cook Channa. Sometimes, I am amazed and find it strange, but at the same time, I admire their ways. It makes work so easy!
The home-cooked food is normally a no-frill one, but it's the Thali at a restaurant which is really very interesting, let me give you a peek into how and what they serve. For a Gujarati  Thali, you are served the accompaniments like pickles, chutneys, salad, papads and buttermilk first. Then come in the snacks. Usually, two snacks – a fried and a steamed snack are served. The veggies follow and there's always a potato curry, a seasonal veggie, a mixed veggie, a kathod / pulse, a dry sauté. Both Dal and Kadhi are served next, but normally you are given a choice. Many call for both. A thali normally serves two flatbreads – a chapati and a poori, that is in case of lunch, for dinner's it's more of bhakri, rotlas. Ghee/butter are brought along and served for those interested. There are two sweets – one sweet like barfi/jalebi/halwa while the other one is like Aam Ras / Basundi / Fruit Custard. Once the bread course is over they serve the rice, which is an indication that you are done with the meal. For dinner, they have rice as well as khichadi along with ghee. Mukhwas ends the meal.
Today's thali menu is a no-frill, simple menu and was planned by my Gujju friend Beena. I invited her for lunch, but a lunch where she did the cooking and I stood by her side to help. Well, she is such a pro, she didn't really need my help.
Let's check the Menu
Doongri Bateta
Tandariya nu Shaak
Ringan Vatana
Kharyu
Sukhadi
Bhakri
Tadela Marcha
This menu is one of the standard menus of her house. She cooked food on all four burners. it was amazing to see her cooking with so much ease and was done with the complete meal within 30-40 minutes.
Doongri Bateta is onion and potato, and here baby onions and potatoes are simmered in a delicious spicy curry.
Tandalja nu Shaak is a green leafy veggie, which is simply sautéed. It is green which like any other green shrinks considerably but tastes delicious.
Ringan Vatana is a semi-liquid curry made with mini brinjals with fresh green peas.
Kharyu is a quick cabbage sauté, just like a salad. Asafoetida dominates it and it can be enjoyed as a side dish too!
Kadhi is a curry made with curd and chickpea flour, it's slightly sweet, slightly sour. The flavours are very well balanced.
Khichadi is a mish-mash of rice and lentils, laced lavishly with pure ghee.
Sukhadi is a Gujju sweet made with wheat flour and jaggery. Normally it is set and cut into squares. This version is slightly different and served in a bowl.
Rotlo is an Indian flatbread made with pearl millet. Gujju Rotlas are normally tossed with hands, without using a rolling pin.
Bhakri is a flatbread made with a mix of slightly coarse and regular wheat flour. Almost mandatory at Gujju meals.
Tadela Marcha is fried onions sprinkled with salt, asafoetida. The fried chillies are a favourite with Gujjus and you can see them eating with the various snacks like Fafda, Daalwada or Dhoklas.
The Saurashtra Thali is the last Thali in the Flatbread Special Thalis under the Thali and Platter Festival. For today I shall share the recipe for Bhakri.
Week 1
Everyday Thalis
Week 2
Regional Thalis
Day 6 Parathe wali Gali ki Thali
Day 6 Kaddu ki Khatti Meethi Sabzi
Day 7 Sindhi Meal
Day 7 Sev ka Raita
Day 8 A Meal from Kerela
Day 8 Nadan Urulaizhangu Curry
Day 9 Chettinad Wedding Spread
Day 9 Potato Masala
Day 10 Bengali Vegetarian Thali
Day 10 Anarosher Chutney
Week 3
Platters
Day 11 Gujarati Farsan Platter
Day 11 Dudhi na Muthiya
Day 12 Pakora Platter
Day 12 Stuffed Whole Onion Pakora
Day 13 Chatpati Chaat Platter
Day 13 Chatpati Chole ki Chaat
Day 14 Sindhi Breads
Day 14 Aatey jo Chilro
Day 15 Udupi Tiffin Recipes
Day 15 Rava Idli
Day 16 Marashtrian Mix Platter
Day 16 Matar ki Karanji
Week 4
Flatbread Special Thalis
Day 17 Maharashtrian Rustic Thali
Day 17 Matar ki Karanji
Day 18 Himachal Pradesh Thali
Day 18 Babru
Day 19 North Indian Thali
Day 19 Ajwain ka Paratha
Day 20 Rajasthan ki Thali
Day 20 Biscuit Bakhri
Day 21 Uttar Pradesh Thali
Day 21 Beetroot Poori
Saurashtra Lunch Thali
Saurashtra Lunch Thali is where a complete Gujarati meal with daal , bhat , rotli , shaak are served together to make a complete balanced meal .
Notes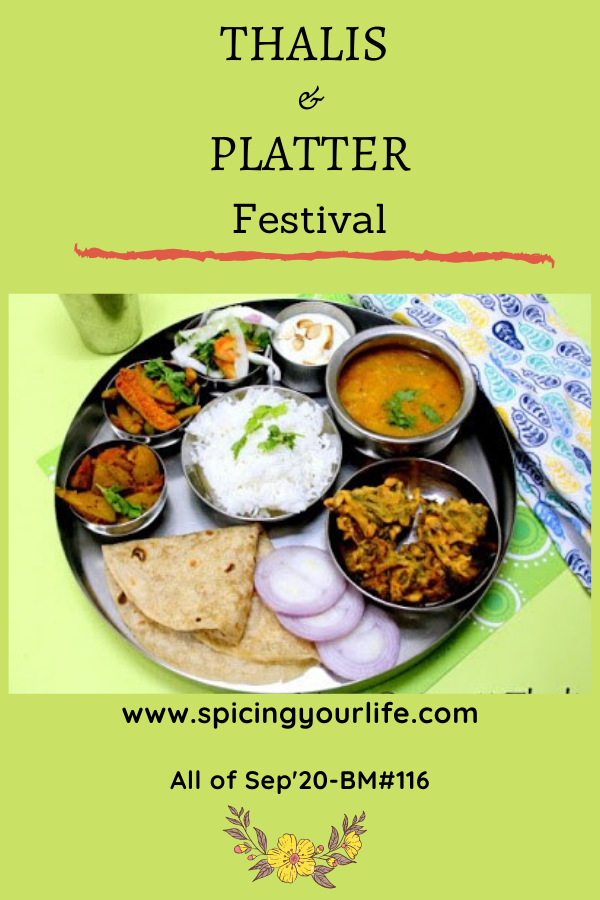 Check out the Blogging Marathon page for the other Blogging Marathoners doing BM#116