---
Sindhi Sunday Lunch Thali is a Thali meal prepared on a Sunday in most Sindhi houses. Kadhi, Chawara, and Tooka is a quintessential Sindhi Sunday Lunch.
Sindhi Kadhi is popular globally, but tell me how many of you know that there are many variations to the Sindhi Kadhi too. We have a
Besan ji Kadhi
, a
Dal ji Kadhi
, and a
Tamatan ji Kadhi
. All three kadhis are made with besan/chickpea flour and the same veggies, but all three kadhis are very different but very very delicious.
Sindh
is one of the four provinces of Pakistan, and there are many small cities in Sindh. The Sindhi's belonging to these different regions had different recipes for the same thing. Each community had its own methods, and hence the diversity in Sindhi Cuisine. The older generation has some preserved recipes, but the younger generation today enjoys the multi-cuisine, so we must make sure to promote the lost recipes.
Today's Menu
Dal ji Kadhi
( a tangy curry made with toor dal , chickpea flour and a particular set of vegetables )
Aaloo Took
( Double fried crisp potatoes )
Chawaran
( steamed rice, tempered with shahi jeera and ghee )
Mithi Boondi
( tiny fried dumplings of gram flour , which are sweetened in a sugar syrup )
Kheecha , Kachri , Chips
( sundried rice papads and potao chips)
Bread
Back to the Sunday Lunch Thali, one of the three Kadhi is made with hot rice, which is tempered with ghee and shahi jeera. The accompaniments are fried crisp potatoes, Aloo Tooka as we call them. Tooka are double fried crisp potatoes and a sinful treat. Kheecha, is rice papads, kachri is again made of rice, these are sun-dried, chips are sun-dried potatoes. Kheecha, Kachri, chips! All these are served along with this meal. The sun-dried chilly is a guest here as it's not really Sindhi, but since I love these with Kadhi Chawara, I must fry them!
Kadhi is normally enjoyed with rice, but there are many families who serve bread or pav on the side. The traditional way to serve kadhi chawara is with
Mithi Boondi
. Mithi Boondi is a sweet version of tiny chickpea dumplings, soaked in sugar syrup. We do not serve the
Mithi Boondi
every Sunday, but I wanted to showcase the traditional style so I have placed a small portion of it.
Today is 4th September and my Dad's Birthday. I normally post a cake, But with a Thali Theme, it was not possible. Fortunately, this Kadhi Chawara was one of his favourite meals… so Dad here is wishing you a very Happy Birthday -Stay Blessed and shower your blessings. We love you.
Sindhi Sunday Lunch Thali
Notes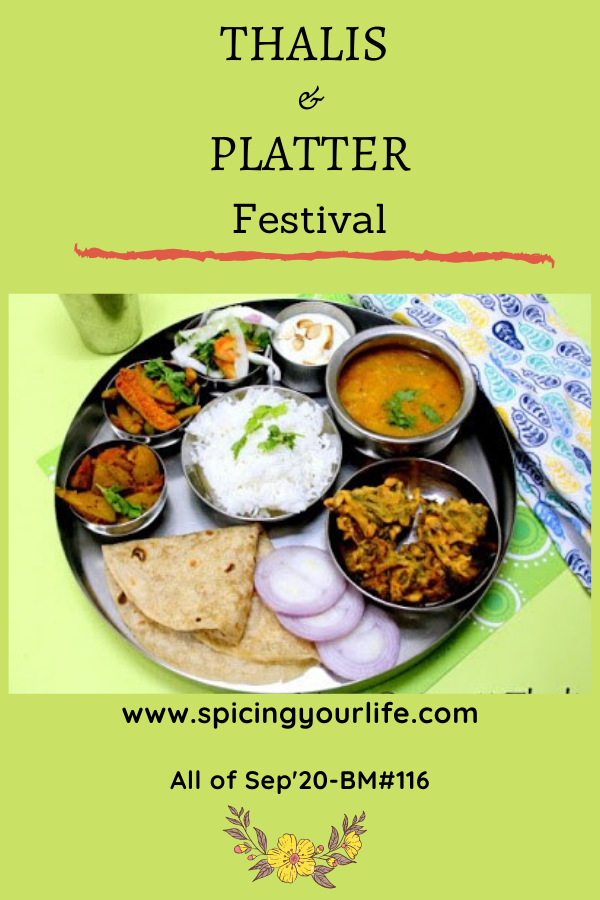 Check out the Blogging Marathon page for the other Blogging Marathoners doing BM#116