Sindhi Winter Lunch Thali is a Thali where the meal that is served is cooked with winter specialities in a Sindhi kitchen.
Sindhi Recipes are almost dying as we see the younger generation prefers western food, we have just a handful of bloggers working on authentic recipes.
Alka of Sindhi Rasoi
has put in a lot of effort and has authentic recipes and her site is a must-visit. So, during this marathon, I decided to post the not very known recipes of the Sindhi community.
Menu for the Winter Thali
Chithiyal Gogdu
( turnip mash – turnips cooked with onions and tomatoes in a typical Sindhi style )
Bassar Paneer
( cottage cheese cooked with lots of onions in a typical manner, called Seyal )
Karela Sindhi Style | Dhage wara Karela
( stuffed bitter gourds )
Thooma wara Chawara
( rice cooked with green garlic )
Papad Churi
( papads crushed and spiced with salt, ghee and aamchoor)
Fulko
( chapati )
Mohanthal
(Chickpea flour fudge )
Salad
Winters brings in some specific vegetables in the market which are a favourite with the Sindhi community. The fresh green garlic is one of them. The tender green garlic is harvested before the cloves begin to mature. The bulbs are really very small at the beginning of the season, but they grow just like scallions. The fresh green stalk is used, just like the scallion stalk. This young garlic is widely used by Sindhis. So for today, we have
Thooma wara Chawara
which are made with this tender garlic.
Turnips is a root that is available here only in winters. Turnips is another veggie that is enjoyed by the older generation of Sindhis. Turnips are called Gogru /Gogdu in the Sindhi language. It surely is an acquired taste and the younger generation refuses to even look at it. More about it in the next post where I shall be sharing the recipe for
Chithiyal Gogdu
.
Today's thali has Bassar Paneer, which is the typical Seyal style of Sindhi cooking. Seyal style cooking is where we have onions as the base of the dish.
The next dish on the menu is  Karela Sindhi Style or Dhage wara Karela or even Katt wara Karela. These bitter gourds are stuffed with onions and garlic. A lot of people shy away from these gourds as they are bitter, but if cooked in the right way, they are really delicious. Can you believe my 13-year-old granddaughter has been a fan of these since she was a little girl!
Sindhi food is incomplete without the papad. They call it blotting paper, It absorbs away all the oil that has been consumed. Well does it really? No, it's just a myth, it's only that it gives a super crunch. For today I have made a Papad ki Choori, which is crushed papad with spices and hot ghee.
Radish is called Moori in Sindhi and is almost a must along with our Sindhi winter lunch, though there are people who are not fond of this pungent root, my family loves it.
Any meal is actually not complete without a small piece of sweet. Mohanthal is a typical Sindhi sweet. It's a chickpea flour fudge and trust me totally addictive.
Week 1
Everyday Thalis
Sindhi Winter Lunch Thali
Notes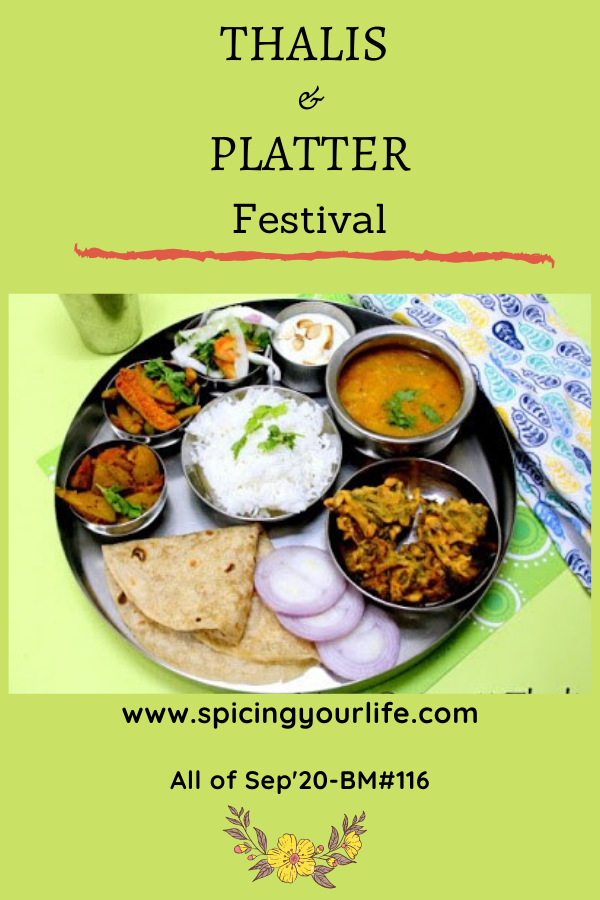 Check out the Blogging Marathon page for the other Blogging Marathoners doing BM#116