Udupi Tiffin Recipes are recipes which have collectively formed my platter displaying some of the most popular Udupi Tiffin Recipes.
Udupi is a small district in the Karnataka region of South India. The district is small with old temples and some delicious food. The Udupi Cuisine is globally popular and it's amazing to see how this cuisine has gained popularity not only in India but all over the world. We see Udupi restaurants in many parts of the world.  In the past, these restaurants were run by cooks and priests trained at Krishna matha in Udupi, but of course, now it is business.
Udupi Cuisine is normally satvik without the use of onions and garlic as well as no meat and fish. However, the cuisine may also be adapted for those who consume these restricted items.
The word ' Tiffin ' just meant a lunch box for me, It took me a while to understand what Tiffin In South India meant! In Southern India, light meals and finger-food is always referred to as tiffin, an Anglo-Indian word meaning 'snack'.  Well, I had always considered Idli's and Dosa's as a meal, as we used to have them as our dinner. I still remember a small Udupi Dosa restaurant in Delhi which was a favourite with my brother and me. Very often the two of us visited this Udupi restaurant.
Blogging truly has taught me a lot in terms of understanding the different cultural differences of food, though I must say there's a lot more to learn. Coming back to today's Udupi Tiffin Platter, it is the fifth in the Platter series under The Thali and Platter Festival. I have a simple, but delicious menu, check it out!
Udupi Tiffin Recipes
Masal Dose
Pudina Chutney
Kadalabele Chutney
Rava Kesari
Filter Coffee
Among the Udupi Tiffin Recipes The Togari Nuchhin Unde, Uddinvade were new to me. I have had the Rava Idli, but made it for the first time. The complete platter was enjoyed by the family who is great lover of this cuisine. For one of the marathons  I had made a complete Lunch Thali from this cuisine and we had enjoyed it thoroughly. Truly the cuisine is delicious. For today I shall share the recipe for Rava Idli. Some of the recipes have been shared while the rest of the recipes shall follow in the upcoming marathons.
Let's look at the Thali's I have posted so far for The Thali and Platter Festival–
Week 1
Everyday Thalis
Week 2
Regional Thalis
Day 6 Parathe wali Gali ki Thali
Day 6 Kaddu ki Khatti Meethi Sabzi
Day 7 Sindhi Meal
Day 7 Sev ka Raita
Day 8 A Meal from Kerela
Day 8 Nadan Urulaizhangu Curry
Day 9 Chettinad Wedding Spread
Day 9 Potato Masala
Day 10 Bengali Vegetarian Thali
Day 10 Anarosher Chutney
Week 3
Platters
Day 11 Gujarati Farsan Platter
Day 11 Dudhi na Muthiya
Day 12 Pakora Platter
Day 12 Stuffed Whole Onion Pakora
Day 13 Chatpati Chaat Platter
Day 13 Chatpati Chole ki Chaat
Day 14 Sindhi Breads
Day 14 Aatey jo Chilro
Udupi Tiffin
Udupi Tiffin Recipes are recipes which have collectively formed my platter displaying some of the most popular Udupi Tiffin Recipes .
Notes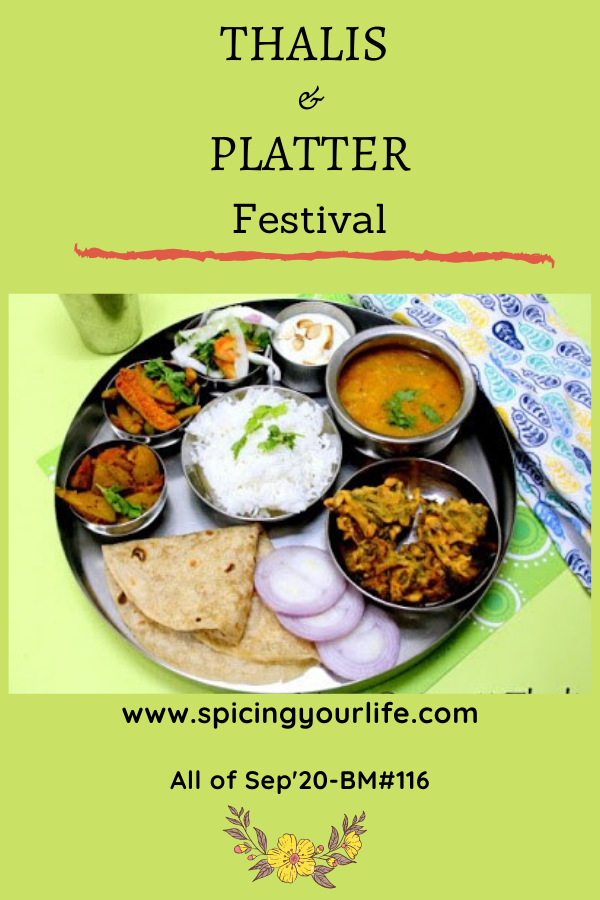 Check out the Blogging Marathon page for the other Blogging Marathoners doing BM#116