Maharashtrian Rustic Thali is a thali which has a spread of typical Maharashtrian dishes which complement each other. Bread and rice naturally follow.
Today's Maharashtrian Rustic Thali is a Thali made by a Maharashtrian lady with me just doing the finishing touches. A few months back we were in Nashik and like always we booked Airbnb apartment. The caretaker was a Maharashtrian and a good cook. We asked her if she could serve us an authentic Maharashtrian meal, which she did ! I gave her the menu and after she was nearly done, I went in to do the last minute touches. I had carried my thali and bowls! Well, we had planned to do the thali at the time of booking the apartment, and so I was prepared with my props.
Maharashtrian Thali's are one of the favourite Thalis of hubby dear, and I have made these with different menus, you could check these here and here. Maharashtrian cuisine is considered to be very diverse as the flavours and spice levels differ in different parts of the state. Spices like Goda Masala, Kokum, Tamarind and Coconut are essential ingredients in their kitchen.
For today I planned a basic menu, with Jowar ki Roti as the highlight. Yes, I shall be sharing the recipe for it today as this week I am focusing on Flatbreads for the Thali and Platter Festival. Even though it was a basic rustic meal, it tasted awesome, it had that Maharashtrian touch that a non-Maharashtrian can't give. 
Let's check the menu –
(Kotambir Vadi is a delicious protein-packed snack from Maharashtrian Cuisine. It's crisp on the outside and soft inside, a perfect anytime snack . )
Amti
( Quick, easy and light pigeon pea dal cooked with tamarind and jaggery )
Mungachi Dal Methi
( Fenugreek leaves cooked with yellow lentils, mild with spices very earthy flavours)
Harabharyachi Usal
( Fresh green gram or the dehydrated whole Bengal gram cooked the Maharashtrian spices )
Batatachya Bhaji
(Potatoes and peas, a no-frill dry saute )
Bhat
( Simple, boiled rice )
(Gluten-free , healthy Indian millet flatbread )
Lassan ki sookhi Chutney
( Dry garlic and red chilly chutney, a must accompaniment in Maharashtrian Cuisine )
Gavhachi Kheer
( A crunchy and chewy wheat and jaggery kheer )
Let's look at the Thali's I have posted so far for The Thali and Platter Festival-
Week 1
Everyday Thalis
Week 2
Regional Thalis
Day 6 Parathe wali Gali ki Thali
Day 6 Kaddu ki Khatti Meethi Sabzi
Day 7 Sindhi Meal
Day 7 Sev ka Raita
Day 8 A Meal from Kerela
Day 8 Nadan Urulaizhangu Curry
Day 9 Chettinad Wedding Spread
Day 9 Potato Masala
Day 10 Bengali Vegetarian Thali
Day 10 Anarosher Chutney
Week 3
Platters
Day 11 Gujarati Farsan Platter
Day 11 Dudhi na Muthiya
Day 12 Pakora Platter
Day 12 Stuffed Whole Onion Pakora
Day 13 Chatpati Chaat Platter
Day 13 Chatpati Chole ki Chaat
Day 14 Sindhi Breads
Day 14 Aatey jo Chilro
Day 15 Udupi Tiffin Recipes
Day 15 Rava Idli
Day 16 Marashtrian Mix Platter
Day 16 Matar ki Karanji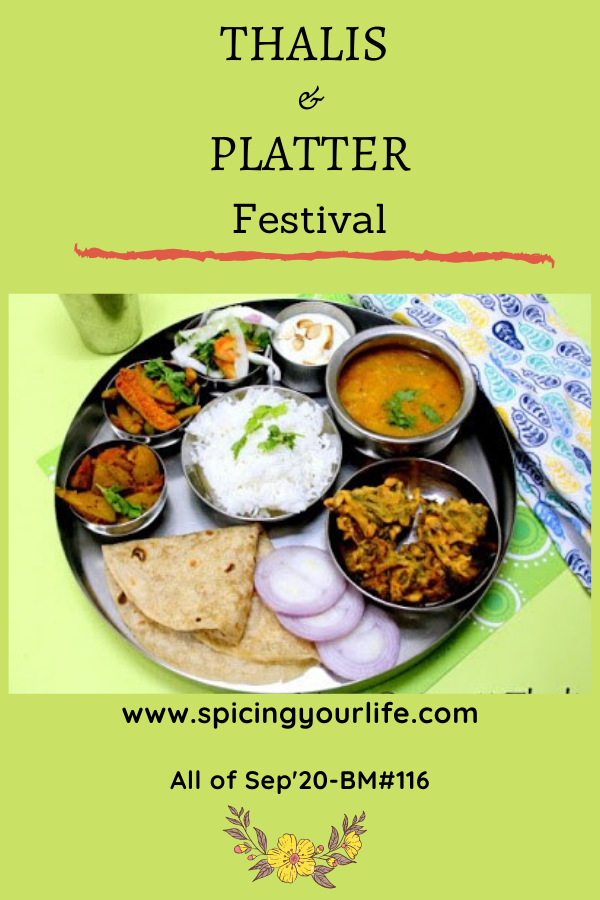 Check out the Blogging Marathon page for the other Blogging Marathoners doing BM#116
You are invited to the Inlinkz link party!