Uttar Pradesh Thali is a thali with a collection of special dishes cooked from this North Indian state, where the main cuisine genre is Awadhi.
The cooking patterns of this state are similar to those of the rest of Northern India. Their food has influences of Kashmiri and Punjabi cuisine. The state is vast and each of its cities has something special to offer. The Dum Pukht
Biryanis
, the
Kebabs
,
Chaats
,
Mithais
– oh there's no end to the list of what this state has to offer.
This state has a lot of non-veg dishes, but at the same time, we also have a treasure of Vegetarian dishes. I have cooked an
Awadhi Thali
, then another
Uttar Pradesh Thali
which had a completely different set of dishes and now I have yet another thali from this legendary state. The cuisine is rich and there are so many dishes that I need to explore.
The thought process of this thali started from the book
Tiffin
by Sonal Ved. My son gave me the book and while going through the recipes, I came across the dish Takey Paise. It immediately took me back to our older generation who used to talk of these. Takey Paise was the name given to the Indian currency in olden times. On reading the recipe I realised it was a
Gatte ki Sabzi
with slight variation. Soon I shall share the delicious recipe.
Today's thali is a Flatbread Special with three different Pooris.
Beetroot Poori
, Spinach Poori and Jeera Poori, which are special to this state. For today I shall be sharing the recipe for Beetroot Poori.
Let's check the menu –
Uttar Pradesh Thali
Menu
Drink
Snack
( deep-fried wheat flour savoury pastry, stuffed with a spicy filling of potatoes and peas )
Curries
Takey Paise
( chickpea flour coin-shaped dumplings, dunked into a yoghurt gravy )
Chakunder ka Bharta
( beetroot mash, simmered with onions and tomatoes )
Bhune Aaloo
( a simple yet flavorful potato side dish )
( peas and lotus seeds cooked in rich and creamy khoya, a real exotic dish )
Breads
( Indian puffed flatbread with beetroot purée seasoned with carom seeds )
( Indian puffed flatbread seasoned with cumin seeds )
Paalak Poori
( Indian puffed flatbread with spinach puree, green chillies and ginger )
Rice
Allahabad ki  Tehri
( aromatic basmati rice cooked with a medley of veggies, laced with pure ghee )
Accompaniments
( deep-fried stuffed lentil dumplings in creamy, spicy yoghurt)
Salad
Sweets
( chickpea flour and cashew balls with a dash of cardamom )
Gulab ki Thandi Kheer
( chilled milk pudding with Indian roses )
This is one Thali that was very special, I am sure my BM buddies would have guessed the reason…yes this is the thali ( metal plate ) that is our BM #100 souvenir and I simply loved plating it and enjoyed the meal served in it.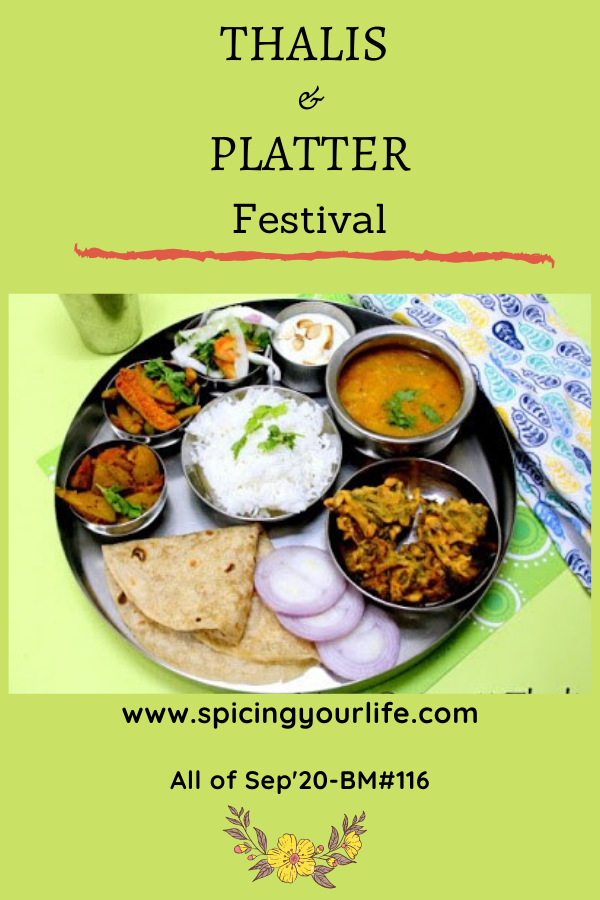 Check out the Blogging Marathon page for the other Blogging Marathoners doing BM#116
You are invited to the Inlinkz link party!