Awadhi Thali is a thali where we have a collection of royal and exotic dishes from Awadhi region. The cuisine belongs to Lucknow which is the capital of Uttar Pradesh.
The Awadh region has been greatly influenced by Mughal cooking techniques, and the cuisine of Lucknow bears similarities to those of Central Asia, Kashmir, Punjab and Hyderabad. The city is also known for its Nawabi foods. The dishes and cooking style of this city is inspired and influenced by the Mughals. The cuisine includes both vegetarian as well as non-vegetarian dishes prepared with exotic spices, herbs and garnished with dry fruits.
Mughlai food is rich and exotic, it's popular all over the world. The richness of Awadh cuisine lies not only in the variety of cuisine but also in the ingredients used like khoya,
paneer
, and rich spices, which include cardamom and saffron. I have chosen a menu with some special dishes, which reflect their special style of nawabi cooking. I have cooked from this state a number of times, but the cuisine is so wide that it keeps pulling me to explore more.
One cannot miss the variety of Kebabs they have to offer us, their
Lucknowi Kebabs with Ulte Tawe ki Roti
are absolutely a hit. The vegetarian version of
Kakori Kebabs
is what you will be amazed to try. Then we have famous Galauti Kebabs, which are one of the best kebabs I have had in years. They simply melt in the mouth. In fact, they have a story behind these and they say that these kebabs were invented for a toothless emperor and he gave a big prize to the chef!
Besides the rich, exotic spread the state has some mouth-watering Chaats to offer, some Royal desserts too. For today I have selected a Special Menu as this is my first Thali under Regional Thalis. We are in the second week of the Mega Marathon where we are working under
The Thali and Platter Festival
. This week I shall be posting six Regional Thalis.
Menu
Snack
Galauti Kebab
( galauti kebabs are melt in the mouth kebabs, with a burst of flavours. These belong to the Awadhi Cuisine and were made for Nawabs, especially when they were toothless ! )
Curries & Daals
( Masoor Musallam is a whole unhusked lentil cooked to perfection with spices, yoghurt and ghee. It is cooked in Awadhi Dum Style . )
( succulent slices of cottage cheese, cooked in yoghurt based gravy with onions, tomatoes and whole spices and finished with rose petals )
( Subz e Noor is a rich creamy curry made with mixed veggies in the rich Awadhi style )
Rice & Breads
Rice with brinj
( steamed rice served with crisp fried golden onions )
(Sheermal is a saffron-flavoured traditional flatbread, from Awadhi Cuisine. It is one of the Nawabi bread served with mostly meat delicacies in Lucknow and Hyderabad. The bread is also popular in Kashmir.)
Accompaniments
( Makhane ka Raita is a creamy relish made with whipped cream and toasted Makhanas or Fox  Nuts, garnished with pomegranate peals )
Lacha Pyaz
( onion rings and pomegranate make a simple yet crunchy salad )
Desserts / Sweets
( Matar ki Kheer is an Indian dessert made with reduced milk and fresh green peas. cardamom and rose petals make a perfect garnish . )
(Rawa Kalakand Barfi is a semolina fudge, rich and exotic garnished with pistachios and rose petals )
Thali's under The Thali and Platter Festival –
Week 1
Everyday Thalis
Awadhi Thali
Awadhi Thali is a thali where we have a collection of royal and exotic dishes from Awadhi region . The cuisine belongs to Lucknow which is the capital of Uttar Pradesh . 
Notes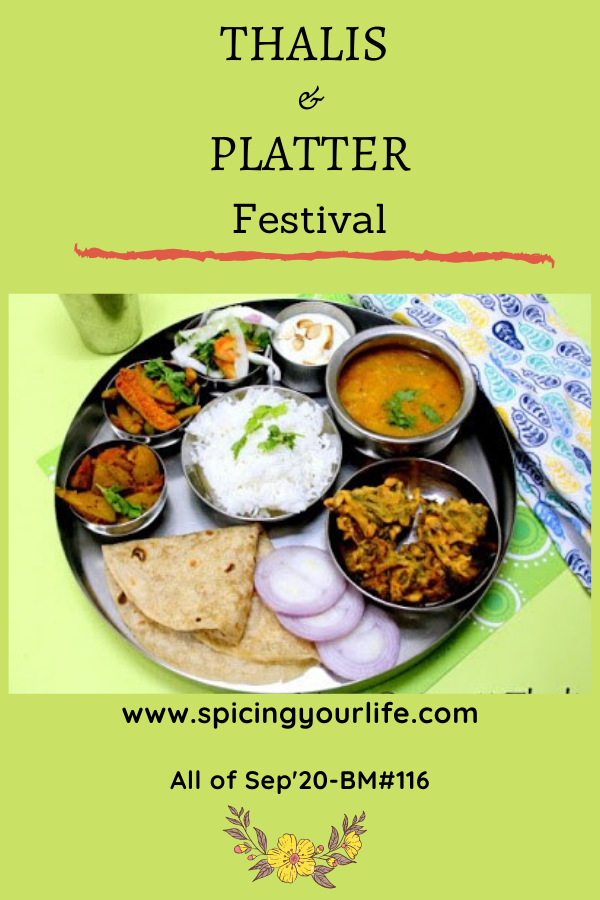 Check out the Blogging Marathon page for the other Blogging Marathoners doing BM#116