Gujarati Farsan Platter is a collective term used for a type of snacks in
 

Gujarati cuisine. Some of these are fried, while some are steamed.

 

For our last Mega Marathon, where Sweets and Snacks was the theme, I posted two weeks of these dry-fried farsans, like Tikha Ganthia, Leelo Chevdo, Tum Tum and many more but for today it's all about the fresh steamed, low-calorie farsans which are served either for breakfast or as an evening snack. These are very popular amongst the Gujarati families and many a time they make a delicious light dinner. They are also served as a part of the Guajrati Thali. 

I am going to present six platters this week, under the theme Thali and Platter Festival. Today's Gujarati Farsan Platter is the first one,

For today's platter, I have picked a variety of steamed snacks. Dhoklas are very popular in Gujarat and we get a big variety of these both as street food and at special farsan shops. Shops definitely have a wider range of these than the street carts. I have picked almost all those varieties but for Khaman and Sandwich Dhoklas. 
Most of these snacks are served with a special sweet and sour kadhi and green chillies, Chai or tea is a must with any kind of snacks. These steamed snacks are loved by Gujarati's as well as non-Gujarati's. We have a new concept where we see vendors, cooking these snacks at home and then bringing them on the streets in big casseroles. Vans or a makeshift stall works best for such vendors. We even have live Dhokla carts, where they steam the Dhoklas and serve piping hot. My hubby and I are great fans of these and many times enjoy them as our Sunday breakfast. The Yellow Dhoklas with Cheese taste wonderful at these carts. 
Ahemdabad has some very famous joints where we get this steamed variety. Swati Snacks, Das Khaman House are on the top of the list, though we have many others at every nook and corner.
I have picked some of the most common steamed snacks, but the most delicious ones, hope you shall enjoy these. 
So let's get on to the menu for today's platter –
Dudhi na Muthiya
( bottle gourd and spices mixed with whole wheat flour, steamed to make a spiced snack, which gets its crunch from sesame seeds and mustard )
Khandvi
( melt in the mouth, soft and tender rolls made with besan and buttermilk, tempered with mustard and curry leaves )
Patra
( colocasia leaves smeared with besan batter, steamed and tempered. These logs are cut into pieces which make a sweet, spicy and tangy snack . )
Vateli Dal na Khaman
( chana dal steamed cake, tempered with mustard seeds and served with fried green chillies and sweet and sour kadhi )
White Dhokla 
( urad dal and rice steamed dhoklas, with a dash of pepper and cumin, a delightful snack . )
Yellow Dhokla
( wholesome and nutritious lentil and rice steamed cake, cut into squares and tempered with mustard and curry leaves ) 
Accompaniments 
Chai
Fried Chillies
Kadhi
Leele Chutney 
Methia Masala
For today I shall be sharing Dudhi na Muthia recipe. The rest of the dishes shall feature in the upcoming months. 
And here are some more Steamed Gujarati snacks-
Stuffed Dhokla with Carrot and Spinach
Week 1
Everyday Thalis
Week 2
Regional Thalis
Day 6 Parathe wali Gali ki Thali
Day 6 Kaddu ki Khatti Meethi Sabzi
Day 7 Sindhi Meal
Day 7 Sev ka Raita
Day 8 A Meal from Kerela
Day 8 Nadan Urulaizhangu Curry
Day 9 Chettinad Wedding Spread
Day 9 Potato Masala
Day 10 Bengali Vegetarian Thali
Day 10 Anarosher Chutney
Gujrati Farsan Platter
Notes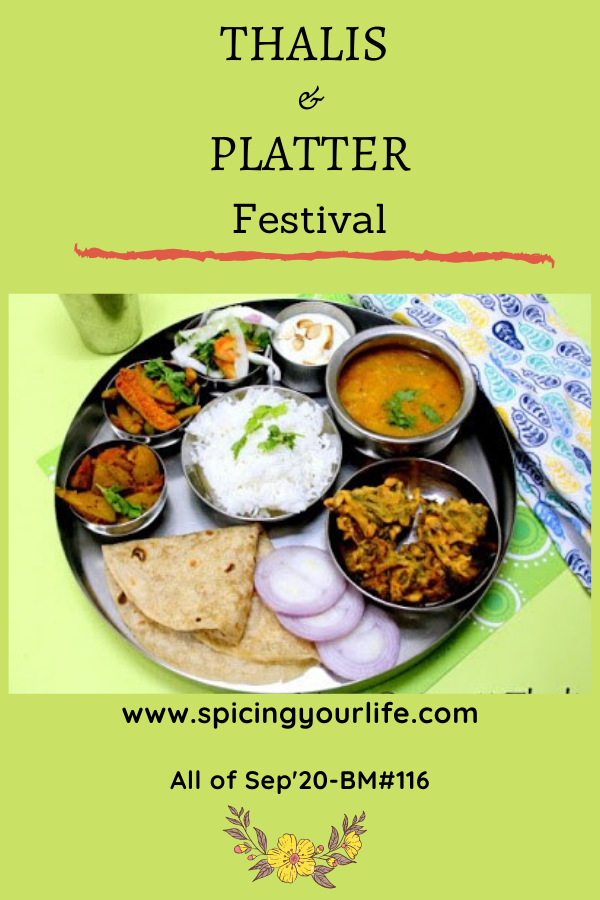 Check out the Blogging Marathon page for the other Blogging Marathoners doing BM#116