Mini Fariyali Thali is a thali prepared for fasting with special ingredients consumed while fasting. The number of dishes in this thali is quite less, hence it's a mini one.
Yesterday I had prepared an elaborate Fariyali Thali, where Sabudana Wadas was the highlight of the post. Sabudana is Tapioca pearls and very popular as fasting food. Today I have made a Tapioca / Sabudana Khichadi, which has been served with a Fariyali Mango Curry. I have already posted the traditional Fajeto recipe and when you compare the two, you will be amazed that there's hardly any difference in taste!
The next dish on today's thali is Shakarghandi ki Chaat. Shakarghandi is Sweet Potato and it's chat tastes absolutely yum. The Sweet Potatoes are roasted on charcoal, lending them a nice smoky flavour. Some chat masala and a drizzle of lemon juice finish this tongue-tickling chat.
To add some protein to this thali, I made cucumber raita, which is nutritious as well as delicious.
Potato Chips add a wonderful crunch to the thali, they team up well with this combination.
Watermelon serves as a dessert!
So Enjoy this Mini Fariyali Thali, while I prepare my next Thali. To know more about Hindu Fasting, check here.
And for today I shall be sharing Fariyali Fajeto recipe.
Let's look at the Thali's I have posted so far for The Thali and Platter Festival-
Week 1
Everyday Thalis
Week 2
Regional Thalis
Day 6 Parathe wali Gali ki Thali
Day 6 Kaddu ki Khatti Meethi Sabzi
Day 7 Sindhi Meal
Day 7 Sev ka Raita
Day 8 A Meal from Kerela
Day 8 Nadan Urulaizhangu Curry
Day 9 Chettinad Wedding Spread
Day 9 Potato Masala
Day 10 Bengali Vegetarian Thali
Day 10 Anarosher Chutney
Week 3
Platters
Day 11 Gujarati Farsan Platter
Day 11 Dudhi na Muthiya
Day 12 Pakora Platter
Day 12 Stuffed Whole Onion Pakora
Day 13 Chatpati Chaat Platter
Day 13 Chatpati Chole ki Chaat
Day 14 Sindhi Breads
Day 14 Aatey jo Chilro
Day 15 Udupi Tiffin Recipes
Day 15 Rava Masala Idli
Day 16 Marashtrian Mix Platter
Day 16 Matar ki Karanji
Week 4
Flatbread Special Thalis
Day 17 Maharashtrian Rustic Thali
Day 17 Jowar ki Roti
Day 18 Himachal Pradesh Thali
Day 18 Babru
Day 19 North Indian Thali
Day 19 Ajwain ka Paratha
Day 20 Rajasthan ki Thali
Day 20 Biscuit Bakhri
Day 21 Uttar Pradesh Thali
Day 21 Beetroot Poori
Day 22 Saurashtra Lunch Thali
Day 22 Gujarati Bakhri
Week 5
Fasting Special
Day 23 Fariyali Thali
Day 24 Sabudana Vada
Mini Fariyali Thali
Notes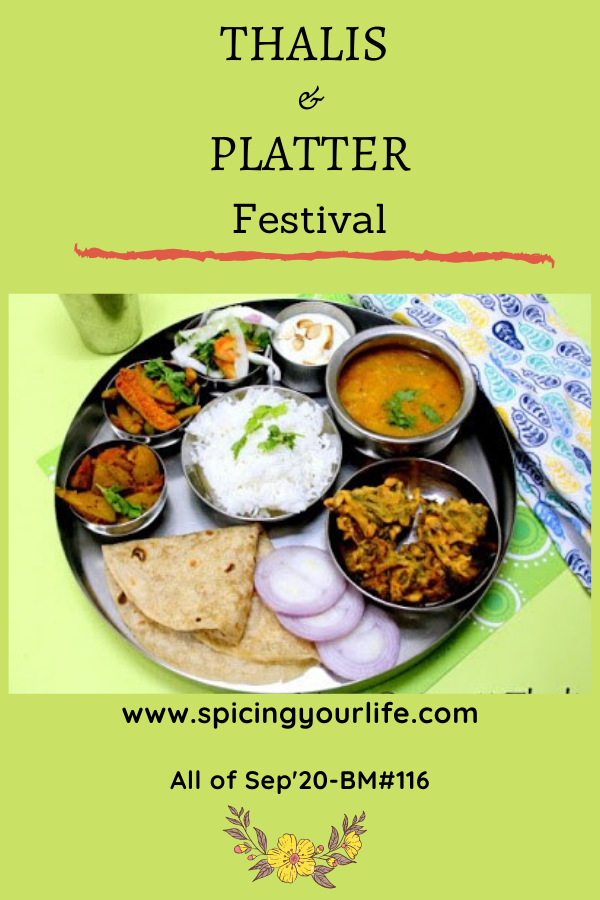 Check out the Blogging Marathon page for the other Blogging Marathoners doing BM#116