Iftar Platter is a spread of the various dishes one can enjoy while breaking their fast during Ramadan.
The last three days I have been posting recipes related to food that can be consumed while we Indians fast, but today it's a different scene altogether. Today it is about breaking the fast!
I love reading about cultures and I am quite fascinated by the Muslim Culture where they fast for an entire month! Yes ! during the entire month of Ramadan, they are obligated to fast, every day from dawn to sunset. Their fasting begins after the pre-dawn meal of suhur continues during the daylight hours, ending with sunset with the evening meal of Iftar.
Iftar is done as a community, with Muslims getting together to break their fast together. The meal is taken just after the call to prayer Maghrib is around sunset. Traditionally three dates are eaten to break the fast. Many Mosques provide Iftar meals after sundown for the community to come and end their day's fasting. They have huge spreads of Iftar meals in the Middle Eastern countries.
I have a beautiful Muslim friend, Kahkasha, who was or probably still is a partner in Le Meridien and when I told her I wanted to make a post on the Iftar Meal, she was so delighted. This is a vegetarian menu and a very small menu. It is nowhere near an actual Iftar, but seriously I couldn't go beyond this! The Muslims, of course, have a lot of non-vegetarian dishes too. I worked around the vegetarian menu and thanks Kahkasha, without you it would have been difficult to achieve this.
Let me share what I have put together on the Iftar Platter  –
Dates Platter
Rose and Pistachio Stuffed Dates
Almond and Candied Peel Dates
Pecan Stuffed Dates
Fresh Fruit Platter
Apples
Grapes
Kiwi
Orange
Pineapple
Pomegranate
Watermelon
Drinks & Dessert Platter
Watermelon Mojito
Mango Lemonade
Lemonade
Blueberry Kheer
Caramel Pudding
Elaichi Kesar Badam Pista China Grass
Royal Coconut Kulfi Falooda
Kebab Platter
Subz Tawe ki Shaami
Soya ki Seekh
Hariyali Kebab
Hari Chutney
Since the fast is broken with dates, I chose to post Rose and Pistachio Stuffed Dates for today. Enjoy them. This is the last post under the Thali and Platter Festival.
Let's look at the Thali's I have posted so far for The Thali and Platter Festival-
Week 1
Everyday Thalis
Week 2
Regional Thalis
Day 6 Parathe wali Gali ki Thali
Day 6 Kaddu ki Khatti Meethi Sabzi
Day 7 Sindhi Meal
Day 7 Sev ka Raita
Day 8 A Meal from Kerela
Day 8 Nadan Urulaizhangu Curry
Day 9 Chettinad Wedding Spread
Day 9 Potato Masala
Day 10 Bengali Vegetarian Thali
Day 10 Anarosher Chutney
Week 3
Platters
Day 11 Gujarati Farsan Platter
Day 11 Dudhi na Muthiya
Day 12 Pakora Platter
Day 12 Stuffed Whole Onion Pakora
Day 13 Chatpati Chaat Platter
Day 13 Chatpati Chole ki Chaat
Day 14 Sindhi Breads
Day 14 Aatey jo Chilro
Day 15 Udupi Tiffin Recipes
Day 15 Rava Masala Idli
Day 16 Marashtrian Mix Platter
Day 16 Matar ki Karanji
Week 4
Flatbread Special Thalis
Day 17 Maharashtrian Rustic Thali
Day 17 Jowar ki Roti
Day 18 Himachal Pradesh Thali
Day 18 Babru
Day 19 North Indian Thali
Day 19 Ajwain ka Paratha
Day 20 Rajasthan ki Thali
Day 20 Biscuit Bakhri
Day 21 Uttar Pradesh Thali
Day 21 Beetroot Poori
Day 22 Saurashtra Lunch Thali
Day 22 Gujarati Bhakri
Week 5
Theme Special Thalis – Theme – Fasting Food
Day 23 Fariyali Thali
Day 23 Sabudana Vada
Day 24 Mini Fariyali Thali
Dy 24 Fariyali Fajeto
Day 25 Vrat ki Thali
Day 25 Ratalu nu Handvo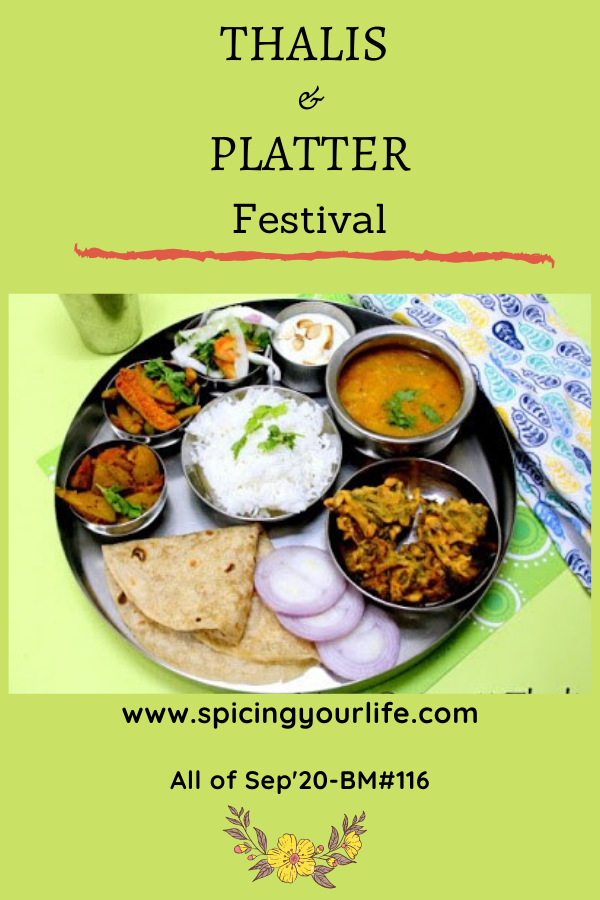 Check out the Blogging Marathon page for the other Blogging Marathoners doing BM#116
You are invited to the Inlinkz link party!