Vrat ki Thali is a thali where a number of dishes are served together and enjoyed while a person is fasting.
This week I have chosen Fasting Food as my theme and the previous two thalis were a Fariyali Thali and a Mini Fariyali Thali. Vrat or Upvas is the same as fasting, and I have yet another Fasting Food Thali for the theme Thali and Platter Festival.
This is a Thali that has been partly prepared by me and partly by one of my friends. We had a get-together and since one of the friends was fasting we had fasting food for her, which made a great Vrat ki Thali.
We have specific foods when it comes to a fasting menu. Grains and cereals are avoided. Strictly vegetarian meals without any garlic or onions are prepared and people steer clear of alcoholic drinks. One has to abstain from vegetables too, but roots like Sweet Potatoes, Potatoes, Varieties of Yam are allowed. All dairy products and nuts are allowed. There's a restriction where spices are concerned. To begin with, rock salt which is called Sendha Namak is used, turmeric and red chilly are forbidden, but cumin seeds and black peppers can be consumed.
People fast for Ekadashi. Ekadashi is the eleventh lunar day each of the two lunar phase occur in a Hindu calendar month. It is considered a spiritual day and is usually observed by partial fast. Vegetable and grains are not consumed as they are believed to be contaminated by sin. You can read more on this here.
So for this Vrat ki Thali, the menu is –
Santra ( Orange)
Baked Ratalu ane Bateka nu Handvo
(Purple yam and Potato savoury baked cake )
Sabudana Khichadi
( tapioca and peanut khichadi )
Pattice
(savoury potato cakes )
Lauki ki Sabzi
( bottle gourd curry, cooked with salt and green chilly and in pure ghee )
Singhade ki Poori
(chestnut flour pooris – an Indian flatbread )
Moriyo
(soft khichadi made from sama rice – which is the fasting rice. Moriyo is the Gujarati name for Sama Rice )
Hari Chutney
(coriander chutney )
Singdana Chikki
( peanut brittle )
For today I shall be sharing the recipe for Baked Ratalu ane Bateka nu Handvo, The rest shall follow later.
Vrat ki Thali
Notes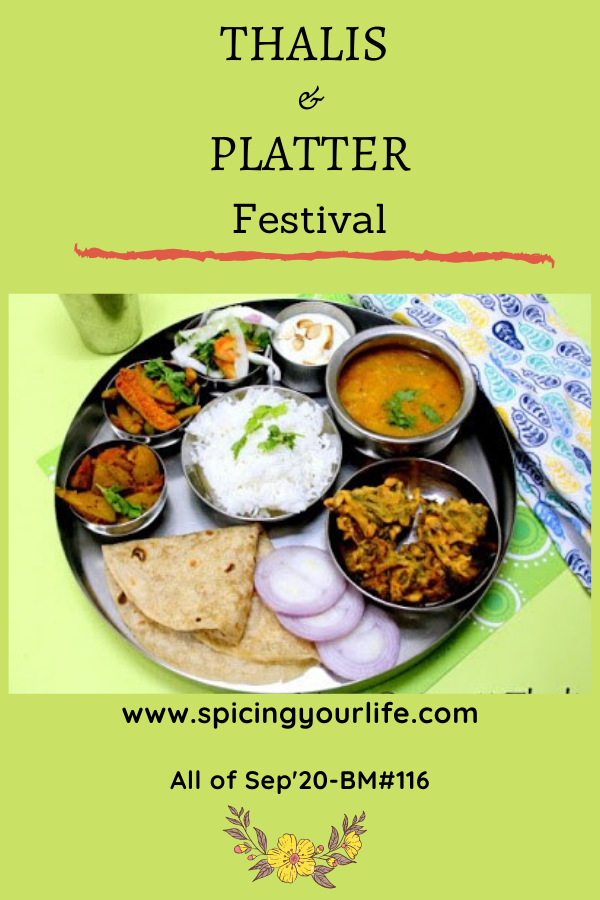 Check out the Blogging Marathon page for the other Blogging Marathoners doing BM#116